Overview
A
hammertoe
is a deformity of the second, third or fourth toes. In this condition, the toe is bent at the middle joint, so that it resembles a hammer. Initially, hammer toes are flexible and can be corrected with simple measures but, if left untreated, they can become fixed and require surgery. People with hammer toe may have corns or calluses on the top of the middle joint of the toe
Hammer toes
or on the tip of the toe. They may also feel pain in their toes or feet and have difficulty finding comfortable shoes.
Causes
Medical problems, such as stroke or diabetes that affect the nerves, may also lead to hammertoe. For example, diabetes can result in poor circulation, especially in the feet. As a result, the person may not feel that their toes are bent into unnatural positions. The likelihood of developing hammertoe increases with age and may be affected by gender (more common in women) and toe length; for example, when the second toe is longer than the big toe, hammertoe is more likely to occur. Hammertoe may also be present at birth. Genetics may factor in to developing hammertoe, particularly if the foot is flat or has a high arch, resulting in instability.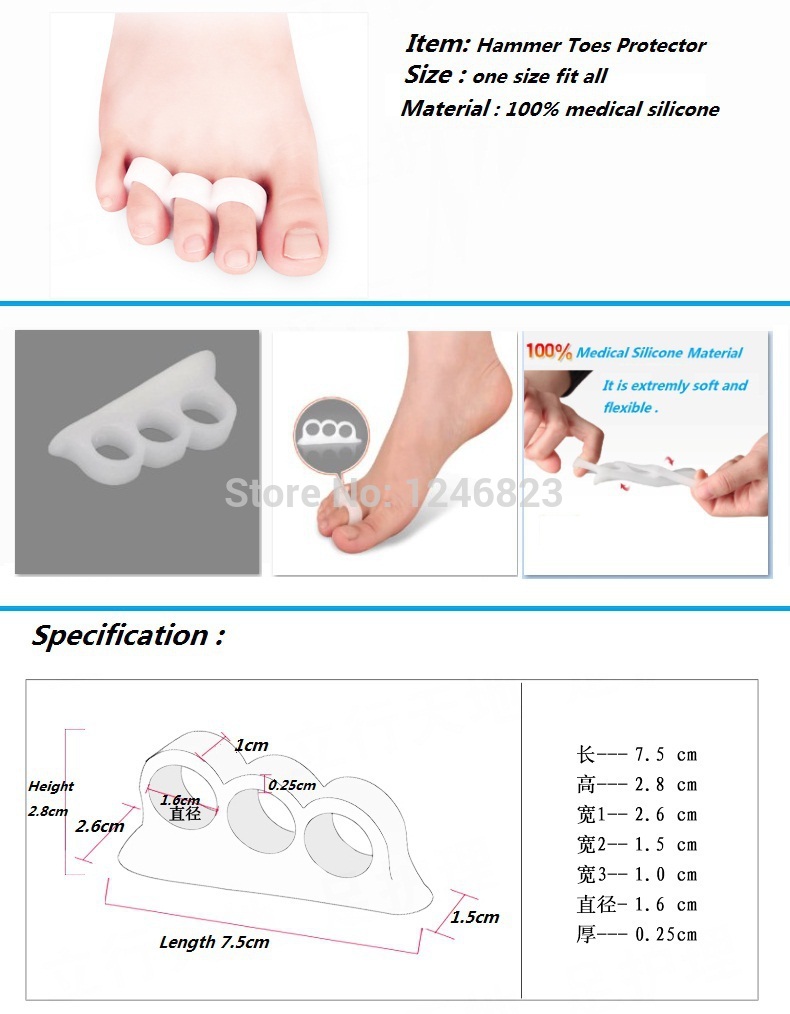 Symptoms
The symptoms of hammertoe are progressive, meaning that they get worse over time. Hammertoe causes the middle joint on the second, third, fourth, or fifth toes to bend. The affected toe may be painful or irritated, especially when you wear shoes. Areas of thickened skin (corns) may develop between, on top of, or at the end of your toes. Thickened skin (calluses) may also appear on the bottom of your toe or the ball of your foot. It may be difficult to find a pair of shoes that is comfortable to wear.
Diagnosis
Most health care professionals can diagnose hammertoe simply by examining your toes and feet. X-rays of the feet are not needed to diagnose hammertoe, but they may be useful to look for signs of some types of arthritis (such as rheumatoid arthritis) or other disorders that can cause hammertoe.
Non Surgical Treatment
Inserts in your shoes can be used to help relieve pressure on the toes from the deformity. Splints/Straps. These can be used to help re-align and stretch your toes and correct the muscle imbalance and tendon shortening. One of the most common types are toe stretchers like the yogatoe. Chiropody. A chiropodist can remove calluses or corns, areas of hard skin that have formed to make the foot more comfortable.Steroid injections can help to reduce pain and inflammation.
Surgical Treatment
In some cases, usually when the hammertoe has become more rigid and painful, or when an open sore has developed, surgery is needed. Often patients with hammertoe have bunions or other foot deformities corrected at the same time. In selecting the procedure or combination of procedures for your particular case, the foot and ankle surgeon will take into consideration the extent of your deformity, the number of toes involved, your age, your activity level, and other factors. The length of the recovery period will vary, depending on the procedure or procedures performed.